She has a darling little blog and ETSY store so make sure you visit her!
And without futher ado...
Hello "Every Crafty Endeavor" readers! I am Ashley, the face and voice behind
Simply Designing
and I am so excited to be here today guest posting!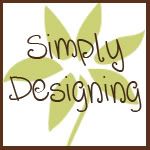 I am fairly new to blogland but am loving every minute of it! I am an interior designer and a floral designer. I own my own business. I also love to dabble in crafts, baby / child items, very occasional sewing, lots of baking, cake decorating and a variety of other things.
I love finding ways to make my life more SIMPLE!
I enjoy keeping busy and I have a list a mile long of "projects" I want to do. And I love posting about my projects on my
blog
! I also LOVE new visitors, comments and new followers! (hint hint! :-)
In addition, I am a wife to a wonderful husband for 9 years, and a mom of a 3.5 year old spunky little girl and a sweet cuddly 3 month old little boy! So much fun!
Oh. And in my spare time (ha ha!) I am opening an
Etsy shop
. It is a slow process for me, but I am enjoying that too. (
Go check it out if you don't mind
!)
I'll wait...
Ok. Now. On to the GOOD stuff!
I am so excited to be guest posting here today. I am actually going to show off a new project and tutorial that I have not yet posted on my own
blog
!!!
A couple of months ago, I bought 2 hurricane vases from Ulta (I know...a beauty supply store...so weird right?) But they were only like $5 (originally $50!) and I had been wanting some, so I scored a GREAT deal and was very excited about it! (They are really nice quality too!) But I digress...
Ever since I found them, it has been one of my pet projects to find fun things to fill them with.
Recently hosted a baby shower and wanted to fill them with something a little bit different. Here is what I came up with:
Cute huh? I am really loving the simple tissue paper
Pom Poms!
Here's how to make them:
1. Stack 8+ pieces of tissue paper together (for larger fuller poms you can use more paper)
2. Cut a square out of the tissue paper the same diameter that you want your pom to be.
3. Fold stacked tissue paper accordian style (1/2" - 1.5" wide depending on size of pom).
5. Trim ends in a rounded shape, or for a spunkier variation, you can cut the ends in points.
6. Seperate the layers, one at a time, being very careful not to tear tissue. Arrange tissue layeres until the pom pom is formed.
I just love how they turned out!!!
Thank you so much for letting me come and share my tutorial with you.
Be sure to stop by my blog
Simply Designing HERE
to poke around and check out some of my other posts and tutorials. Stop by, stay a while, leave a fun comment, become a follower...I love it all!
Happy Designing!