Hey Everyone! Jamie from C.R.A.F.T. is here today and has brought a bunch of cute ideas!
She has such a fun blog with so many different ideas - make sure you check her out!

Hi everyone! I'm Jamie @
[C.R.A.F.T. stands for: creating really awesome free things ]
I am so excited to switch places today with Amanda @ Every Crafty Endeavor!
I am lovin' her ruffle knit scarf...cute and cozy...check it out!
So, here is a
little
about me:
1: I have made 3 quilt tops (and feel really proud of myself!)
2: I don't really like rulers.
3: I love crafts out of recycled materials and everyday objects.
4: Traveling and fried okra make me happy.
5: When I wear socks, I always wear 2 different colors (this is because I am lazy and never put my socks together, I just throw them all in one big drawer :)
C.R.A.F.T.
hosts a
little
party
every
Monday
called: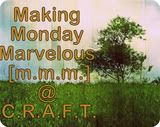 I would love for all of you
wonderful
Every Crafty Endeavor Followers
to help
make
Monday's Marvelous
and link up your
brilliant,
crafty ideas:)
Today I am going to share

3

sweet and simple crafts and

1

tasty treat that you can do in under 30 minutes!
C.R.A.F.T. #11 Magazine Envelopes
A personalized envelope for your
snail mail treasures
...
cute right :)
C.R.A.F.T. #9: Yarn Web
Perfect for a kids bedroom or playroom
or a craft room :)
All you need is a ball of chenille yarn, tacks or small nails, and of course wonderful treasures to put in your web!

One great thing about this project,

is you can make it fit your space perfectly.

[If you did not want to directly put holes in your wall, you could do the same thing on a piece of board]

I choose to put holes directly in my wall.
C.R.A.F.T. #5: Recycled Gift Wrap
Any fun,colorful box from the pantry will work...I've used cereal boxes [great for shirts!], oatmeal containers, and jello boxes [for jewelry!]
[now for the tasty treat :)]
C.R.A.F.T. # 24: Brownie in a Mug
[click
HERE
for the recipe :]

Thank you, Amanda, for sharing you blog with me today :)
Happy Crafting :)