Today I'm featuring a fun blog that I  found through my Crafty Blog Link Up Party called Crafty Girls Workshop!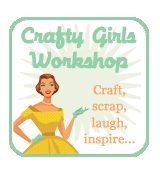 Irene is darling and has so many great ideas! This girl can do it all – she has so many ideas on her blog that range from recipes to necklace making!
Check out this darling crafting apron she made! I love the colors and fabric she picked!
and I love that it can hold a lot of my random crafting supplies.
Wouldn't you love to get one of her cards in your mailbox? I would!
There are plenty more where those came from too! So cute!
She also stitched up this darling Make-up Bag! Just wait until you see the cute fabric she has lining it – oh so cute! I love the felt flowers on the outside with the cute little buttons!
Thanks for sharing your talent with us Irene! And remember to grab a Featured Button!
Wanna be featured? The next Every Crafty Blog Party goes up on April 24th!