I am pretty lucky today – I get to share a Fall project with you for Fall Fever!
We have had so many great tutorials and a couple great giveaways and I cannot wait to share the rest with you!
And it also happens to be my turn to take you for a ride on the Creative Carousel!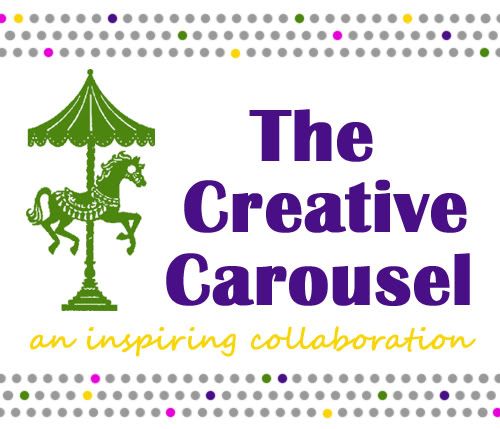 Have you guys had a good ride on the creative carousel so far? I hope you have visited all the cute girls that are participating to see all their "Fall" tutorials! I also hope you have taken the chance to enter to win one of the prize packages – It is totally awesome – I wish I could win!
Alrighty – onto the tutorial!

When I think of Fall – my mind automatically thinks of pumpkins – I have no idea why – I just love them!
First: Let's gather up the supplies. You will need:
An old Frame
A Pumpkin Template
Orange Scrapbook Paper
A Scrapbook Paper Background
A Wooden Knob
Orange Buttons
Green Wire
Spray Paint
Scissors
Hot Glue Gun
Second: Paint your Frame and your wooden Knob. My frame was brown to start with and I sprayed it Green (Rustoleum Eden) and then Sprayed it White (Rustoleum Heirloom White) so when I distressed it by sanding the different layers would show through. I also sprayed my knob Eden and then Rustoleum Expresso – and sanded it down a bit too.
Third: While all the paint was drying – I traced my pumpkin template onto my orange scrapbook paper and cut it out.
Fourth: I hot glued my buttons on. I started at the bottom with a bigger button and glued it so it hung down a bit lower than the rest since pumpkins have the little bump on them. Then I just went to town gluing on buttons – there was no rhyme or reason – I just grabbed a button that fit in the space and glued it on. This part actually went a lot quicker than I thought it would.
Fifth: I wrapped the wire around a pen and made it curly (like the vines on a pumpkin!). I made 5 of them and did them all different lengths – since the wire was so thin, I just used my scissors (gasp!) to cut it.
Sixth: I glued it all together. I glued my pumpkin onto the brown scrapbook paper I picked (after I cut it to the size of my frame (8x10)) and then glued the wires down and glued the knob over the tops of the wire.
Lastly: I put it in the frame!
I love the look of all the different buttons all together! The variety is so fun!
What Fall and Pumpkin Projects are you guys working on? And remember that if you want a simple Fall project to add a bunch of color – you can click here my free Playful Fall Subway Art printable!

P.S. I am linked to The Weekend Wrap-Up Party