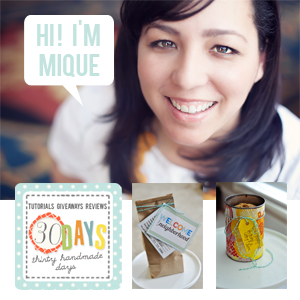 Hi Every Creative Endeavor readers! I'm Mique from
30days
. I live in the beautiful Los Angeles area with my husband and three kids- 2 boys, 1 girl. I am passionate about my family, friends and creating. I am learning to embrace my role as an
autism momma
. I also love running
the Queen Bee Market
with my sister
Jessica
.
Fall is my favorite time of year. Growing up my mom made everything pumpkin flavored thing she could in the fall. Pumpkin cookies, muffins, bread, pie. Shhhh....don't tell...I actually didn't like pumpkin for a long time because it was a little pumpkin overkill at our house. So today I wanted to share some pumpkin chocolate chip cookies and a fun printable tag. What better way to bring in the new season than with a plate full of cookies and a happy note?
Pumpkin Chocolate Chip Cookies
Makes 3 dozen cookies
Cream the following together:
1 c. shortening
1 c. sugar
1 c. canned pumpkin
1 egg
Then add one at a time in order and mix well:
1 tsp. vanilla
2 c. flour
1 tsp. baking soda
1 tsp. baking powder
1 tsp. cinnamon
1/4 tsp. salt
1/2 bag of chocolate chips (I sometimes mix 1/2 milk chocolate & 1/2 semi sweet chocolate chips)
Mix well. Place on greased cookie sheet. Bake at 350 for 10-12 minutes (I just do 10 mins, I go for underdone rather than overdone).
Make your cookies & print out a page of
Happy Fall tags
.
For personal use only.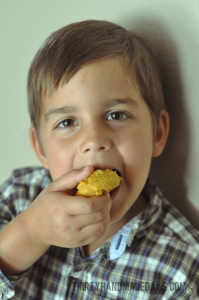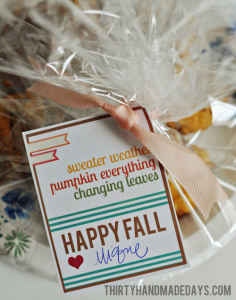 Drop them off at friends or neighbors before your family eats them all up.
Very Cute and Thanks so much for including your darling tags!!