Hello! Hello! Are you guys ready for another ride on the Creative Carousel?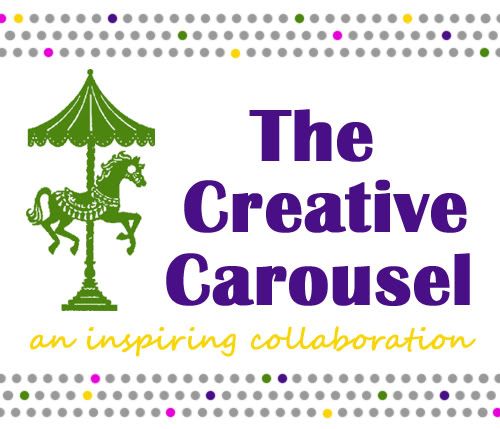 In case this is the first time you have seen this – This month is Homemade for the Holidays! You can enter to win the amazing prize packages we have going on over at Creations by Kara – and if you do know what's going on -have you guys been enjoying the week so far? We have had some really fun tutorials – Lil' Luna was before me so if you didn't see her cute gift wrap idea – check it out too!
I love the theme Homemade for the Holidays because I love the idea of giving your loved ones things you have made – It just seems to mean a little more (not to mention it's a little cheaper!!) I don't know about your kids – but my little one loves when I make things for him – so when I heard this was the theme, my mind automatically turned to him and I thought "What can I make him for Christmas?"
He loves to stack a thing of chunky Legos we bought him last year so I thought what if I made him his own personal blocks -
First: I went to Hobby Lobby and bought a bunch of stickers I knew he would love – they were $1.99 but I got them all 50% off – I used 5 different sets so I spent about $5.
Second: I headed out to my scrap wood pile and found some pieces of wood I could cut up and make blocks from – then I sanded them down and made them super smooth.
Third: I layed out all the blocks I had cut and sanded and started putting my stickers on.
Fourth: When I had all my stickers on blocks, I took them all out and gave them a good spray of Krylon Matte Finish.
I let them all dry and was finished!


I love the fun little sets that he will be able to play with.

Firemen:
Police Men:
Robots:
Zoo Animals:
The Farm:
It is going to be so fun when he opens them on Christmas and loves them (he found the stickers and loved those so I can only imagine how magical our Christmas will be!). What projects are you guys working on for Christmas? It's never too early to start!
Make sure you ride on by Oopsey Daisy tomorrow for some more handmade goodness!
Linked to:
Thirty Handmade Days
WhipperBerry