I am going to start a weekly linky party featuring all your creative endeavors!

There – I said it. and posted it. So now I have to stick too it!

I have been toying with this for almost a year – should I or shouldn't I? Why is it such a hard decision to make?
And really – the ONLY thing that has been keeping me from doing it is that "there are just so many!"
But then I realized that ONE con shouldn't be enough to stop me.
When I started this blog – I had the goal in mind to someday feature projects from other bloggers and I feel like this is a really great step in that directions and I cannot wait to see all the great things that everyone has come up with.
I love participating in Linky Parties and I hope that you will take me in and link up here every Thursday!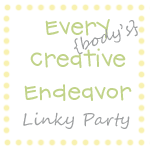 But the fun doesn't stop there!
Give a big HUGE welcome to Craft Vinyl!
The newest sponsor on Every Creative Endeavor!




Each time you link up a project, your name will go in for a monthly drawing to win $50 worth of free product!
Sweet! So not only do you get to share all your great ideas and see them featured here – you also get the chance to win free crafting supplies – hip! hip! hooray!
They have so many great products – and their prices are amazing!
They have 84 different colors – and static cling vinyl – and glitter heat transfer!
and that is a tiny little sampling  - you must head over and check them out!
Also – remember to follow along on facebook because I'll be featuring you there too!

Remember it starts next Thursday!!
and have you entered to win $75 to Mixed Bag Designs.