I love sugar cookies – love them and it seems like Christmas is always the perfect time to make them! Which is actually a good things since making and eating these all year long would surly take away from my "eat healthy" resolution that I make every year!! haha!
Here is my recipe for super yummy and super soft (perfect!) sugar cookies – I have no idea where I got this recipe but I have been making them for years and still love it just as much!
SUGAR COOKIES:
1 cup shortening
2 cups sugar
3 egg whites
2 tsp. vanilla
Beat Well.

Add 1 cup light or fat free sour cream
Mix.
Add:
6 1/2 cups flour
1/2 teas. salt
1/2 teas, baking soda
Roll about 1/4 inch thick – cut our your shapes and bake at 400 for 7-9 minutes (depending on your oven)
and of course – no sugar cookie would be complete with out frosting!
BUTTERCREAM FROSTING:
1 c. shortening
1 c. softened butter
8 cups powdered sugar
4 Tbl. milk
2 teas. vanilla
cream shortening and butter together, add sugar, milk and vanilla
blend until mixed well.
Frosting can be stored in fridge for two weeks!
Enjoy!!
Now I am off to finish eating mine!
Oh – and don't forget about my linky party going on right now -
and remember to enter to win a fun and funky frame – co cute!!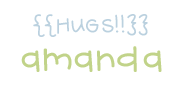 Part of the: