I know! I know! You have seen these everywhere – but how could I not make them and share them with you -
Back in November I made a few for myself and I loved them so much that I made a few more to give as gifts for Christmas.
I love plum – it adds such a bold statement to an outfit and is such a gorgeous color.
And don't you love this yellow beauty? Yellow is my very favorite color – It is so fun and playful and just makes me super happy – so naturally I have to a fun yellow necklace!!
And of course white – because white matches everything!! and can be subtle -
This brown beauty is one of my favorites – it is such a fun statement piece – and not to toot my own horn – but I have gotten a lot of compliments on it!
There are so many possibilities with all the fun fabrics out there – I think a fun and bright one would be awesome. You know – just like a HUGE pop of fun color all wrapped up in a rosette!
I am not doing a tutorial for these since I am almost certain that there are a few out there already – but I will give you some quick instructions – First, you need to roll a few rosettes and if you want to learn to make fabric rosettes you can find the tutorial here – Then you want to hot glue them onto some coordinating felt in the order that you want them leaving the end ones off for a minute. When you glue them on you want to sort of  round them out so they sit right on your neck . (does that make sense?) Make sure you glue your necklace chain (or you could use ribbon if you want) onto the felt before you hot glue on your end rosettes. Then add your clasp if you used chain and your done!
Bag them up, add a cute ribbon and hand them out as gifts!!
(or keep them for yourself!)

Sorry for the red and green ribbon – it was Christmas remember!!
If you want some really awesome ribbon either for your necklaces or your bags – head on over to the Ribbon Retreat and pick some up! They have some really cute fabric too!
What do you think? Do you like them? Come back tomorrow for the Friday Linky Party!!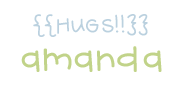 I am linked to these parties and you should too!!