Alrighty!! Here is the Painted Wooden Valance Tutorial that I promised a week ago… thank you so much for being patient with me as I put my family and myself first last week!! This post has been really hard for me to write so if you get to the end and have any questions please feel free to ask me and hopefully I'll be able to help you out!
First off – I am totally and completely in love with this valance… it has totally changed the feel of my dining room for the better and makes me happy each time I see it. This is one of my very favorite projects – and I think it will look great in any room – with that being said, lets see if I can walk you through a tutorial to make your own.
I took all these measurements so I could make sure you could build one exactly like mine and then I realized… odds are you DON'T have the same measurements as me. Doh! So I going to do my best to explain how to make one with any measurements you may have. So first off, you want to measure the area where you will be hanging the valance. The back is going to sit snug right up next to your window/trim and you want your sides to hang over the sides of your door or window – see the above picture!
Once you have your measurements, head on out to Home Depot or Lowes and pick up your lumber and your crown molding – or do what I did and call the hubby and ask him to pretty please pick it up on his way home from work!
Once you have your wood, you want to cut it to size. You need a: FRONT, BACK, TOP and 2 SIDES. You want your back to be about 2 inches shorter than your front – that way you can hang it above your trim (if you have trim) and the front will still be long. You want to cut two sides the same size – and you want them as wide as you want the valance to stick out.
Glue and nail your back and sides together. Every time you nail on a piece you will want to add wood glue first.
Then glue and nail your front on. My hubby likes to make sure things will NEVER. EVER. EVER. fall apart so after each step he also screwed in a few screws.
Once you have your front, back and sides glued, nailed and screwed together – you will have a long box.
(and yes, we did build this in my family room at midnight – can you tell by the awful lighting… darn!)
Next you want to glue, nail and screw the box to the top. Make sure the back is flush and that you have lip around the entire thing so you can secure your crown molding to it.
Now you have your base finished so you can start adding your crown molding. On your side pieces make sure you miter the front and cut the back straight – you want to miter both sides of the front piece too – You want to miter them at 45 degrees.
I added my crown to the bottom of my top piece and left about an inch of my side piece exposed too.
(My crown is 5 1/2")
Here is a picture taken from the bottom – You can see that the back is shorter than the front,
Now it is all built and you simply need to fill in the holes -  and sand that baby down!!
After my valance was all sanded down and ready – I painted it!! I love the color I decided to paint the Valance. It's called Rainwater by Martha Stewart. I love this color – it is one of my new favorites!!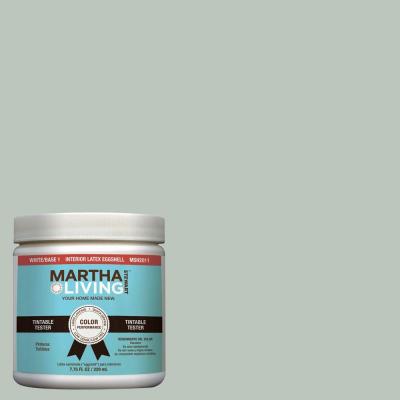 My husband screwed it into the wall from the top -  and I used a dowel to hang up the curtains. I wanted to keep the kitchen clean and fresh and light so I went with some simple white curtains from IKEA -
When I reveal the whole dining are you will totally be able to see the huge impact this makes on the room -
and hopefully the pictures will be better then too!!
Do you like it? Do you want to make one for your house?

I am linked to these Awesome Parties!! And you should too!